....is my favorite kind of mail! So, imagine my enthusiasm when I learned of a
between bloggers ~ bloggers from all over the country and all over the world! We each prepared postcards with our original art or photography and sent copies of them to Kat {a creative and energetic and very organized Oregonian} who randomly sorted them and mailed them to all the participants. Her goal was
to help us send our art out into the world! So I joined in!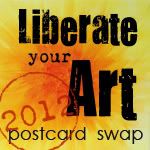 The most amazing piece of this story, is that my first postcard arrived and it was from
who is one of my favorite blog friends! It was on her blog I first learned of the swap, and I
visit her daily to see her beautiful photos!!
Thanks Kat!
to meet her and see all the art!